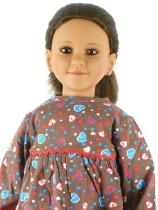 2 years ago my daughter received an Adopted Friend My Twinn Doll. To this day it is one of her most favorite toys ever! She loves to dress up her doll and have tea parties for hours!
When choosing an Adopted Friend I found one that looked almost identical to her and she immediately fell in love!
Currently My Twinn is having a huge sale on their Adopted Friend Dolls! You can score one of these amazing dolls for just $49 (Reg. $99) That is a HUGE Savings of $50!

*Shipping and tax will be different for all areas!