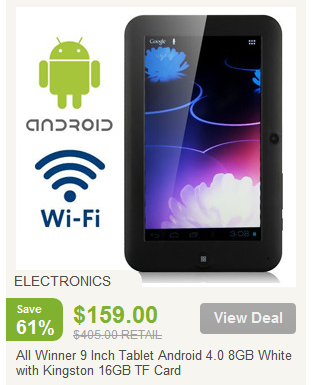 No More Rack has an amazing deal on a 9 Inch Android 4.0 8GB Tablet! Just $159 (Reg. $405)
My No More Rack Experience!
I know that there are some questions about No More Rack! All I can tell you about is my personal experience with them! I purchased a Nintendo DS Game Extender in November 2011. It never arrived. In January I sent an e-mail to customer service and within 30 minutes they responded back with a full refund.
I decided to give them a try again with an Insanity Deal and scored a Kindle Fire…It was delivered and to my door within 7 days.
The third time I purchased a deal on a necklace that I knew my Mom would love for Mothers Day. It arrived in two weeks and was amazing!