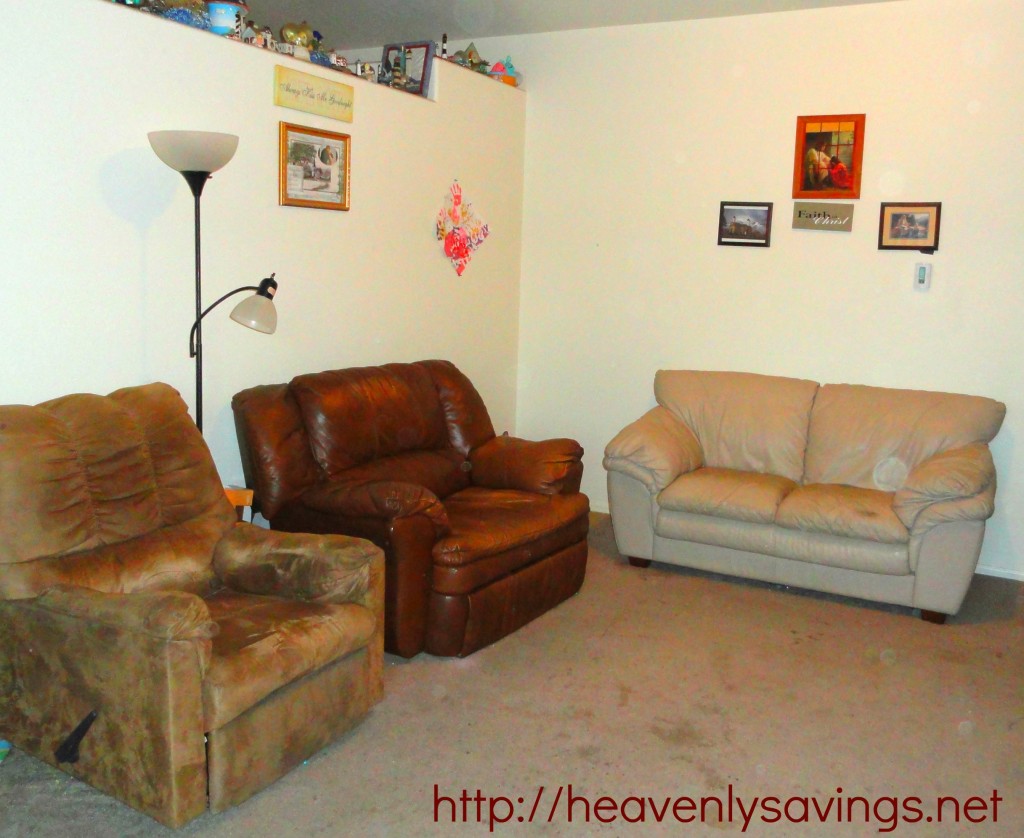 (Before)
Ever since moving into my home I have hated my carpet. We have a goal in mind to have hardwood floors put into our home in the next year or two but for now I have yucky, stained up, carpet.
It is so hard for me to keep carpet clean with so many kids running around all day. I love tending children and I love doing the crafts and activities we do together..but it takes a toll on the carpet……
Okay enough about all that. How can I fix the problem NOW? Well the answer to that question is easy…. Mohawk Rugs!
Recently I was able to go through 10 different store web sites that all carry Mohawk Brand Rugs and I was able to choose a rug that would be perfect for my house! I knew off the bat that I needed to have a cream and and brown in the rug to help tie the colors of the furniture together. We have had hand-me-down furniture since we were married as that is another cost that we just can't afford right now.
I looked for hours at rugs. There were SO many options that had the colors I wanted. After narrowing it down I settled on the Multicolor Select Cambridge Area Rug. It had the colors I was looking for but also a pattern that fit's with my personality and decor in my home…okay so I am not great at decor as you can tell by my bare walls but I promise my Living Area is much bigger then the picture looks and the rug really does tie everything together!
My Mohawk Rug was shipped from Lowes and I must say it was here quicker then expected! Just a few days after the order was placed and my rug was at my door! I was so excited to see the new look! As soon as I laid it out I could not wait for my husband to come home so he could see the new look..but in the meantime my daughter and I enjoyed the softness of the new rug and laid on the rug together reading stories. It was a wonderful moment and one that I know will be re-played over and over again as the rug is truly very soft!
Mohawk makes Area & Accent Rugs, Indoor and Outdoor Rugs, Kitchen Rugs, Bath Rugs, Door Mats, and Rug Pads! They can be purchased at Home Depot, Kohls, Lowes, Target, Bed Bath & Beyond, Anna's Linens, Sears, Menards, Walmart and JC Penney!
I am so thrilled with my Mohawk rug! The quality is outstanding and there are just so many rug choices. I love how easy it is to find the perfect rug and how many options I had when choosing. I also love that Mohawk Brand rugs are carried by stores I know and trust. This has really been a wonderful addition to my home!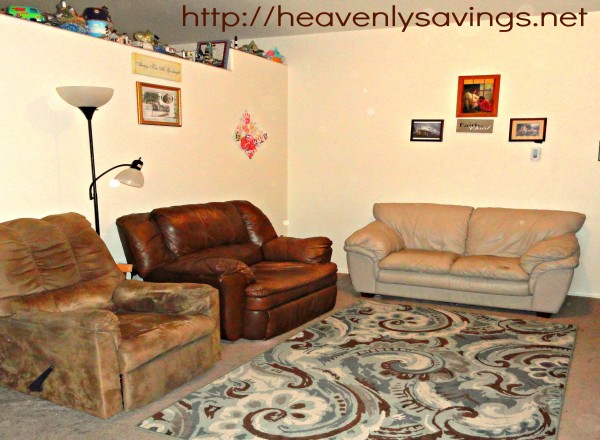 (After)
As you can see the rug looks great! Now I just need to learn how to decorate the rest of the house! lol…I was not blessed with interior decorating skills!
Want to learn more about Mohawk? Check out this Made In America Youtube video!