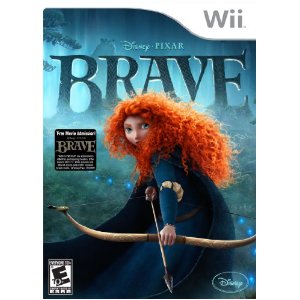 My Thoughts on Disney Pixar Brave for Wii
Recently I was able to take my family to see Disney's new Brave movie. I must say that it is one of the best Disney movies that I have ever seen. It was a great time for the whole family and although it is not out on video it does not mean that you can't take the fun home with you.
Recently Disney released their new movie Brave out on gaming platforms and I am happy to say that I was able to review the version made for Wii.
When the Wii game arrived my family was thrilled! My daughters eyes lite up and my hubby thought about coming home from work early (he didn't but he wanted to).
In this fun interactive game for Wii you play the character Merida. Working hard to break the curse she herself has placed on her own Mother with the help of a witch from the woods.
In this game you will battle enemies with your sword and your bow and arrow. You will also uncover secrets that will help you break the spell that is cast on the Queen. Will you be able to find all the clues and battle your enemies to turn your family back into humans? Or…will they be bears forever?
From Press Release
A third person action-adventure, "Brave: The Video Game" expands the tale beyond the movie's storyline. Gamers can play as Merida, an expert archer and heroine, and in the console versions, players can also play as other entertaining characters from the film.  In addition, they will be able to go on quests through a magical world and solve puzzles to uncover secrets.
I did receive a product for the purpose of this review, However my opinion was used in this review and was not influenced in any way! All thoughts are my own and may vary from others.