I recently purchased a Magic Bullet and I must say I am very impressed! I have used it a minimum of 5 times a day since I took it out of the box! It is so easy to have fresh fruit smoothies and such now!
Last night I decided to make home made tomato soup for the first time ever. I know that the magic bullet book as a recipe inside but I decided on my own take of that recipe instead of following theirs…it turned out amazing!!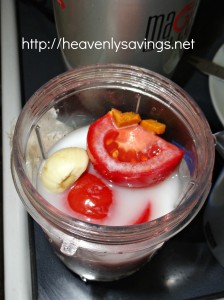 Ingredients:
2 tomatos cut into quarters 1/2 cup water 1 chicken bullion cube (you could also use vegetable bullion) 1/2 clove garlic 1/3 cup milk  
I placed all ingredients inside the 'tall' for the Magic Bullet and used the cross blade! I blended until it was the consistency of soup.
I was feeding my family as well as my little brother for dinner so I made three batches of this soup. After it was all blended I cooked it in a sauce pan just as I would a can of soup! It was amazing!!!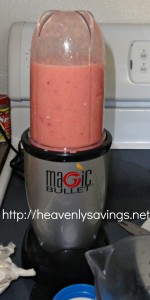 WANT MORE AMAZING RECIPES? DON'T FORGET MY RECIPES TAB AT THE TOP!