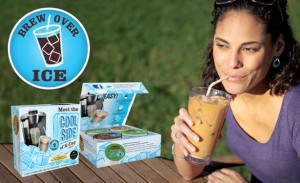 I am not a coffee drinker but I know a lot of people who are so recently when given the chance to review Brew Over Ice K-Cups I said yes! Ok so the truth is that it is not just coffee that you can purchase in Keurig's new Brew Over Ice but also Tea and I am a Huge Sweet Tea fan!
When the K-Cup samples arrived I headed on over to my Mother In Laws house as I knew she would be the perfect person to give the coffee a try and together we would have a great time reviewing the tea and coffee together.
The Brew Over Ice K-Cups brew exactly as you would a regular K-Cup. Just insert it into your Keurig machine and your good to go. The only thing that is different is the cup that you place under the spout. For the Brew Over Ice you will want to use a Plastic cup that is 16oz. This is needed as some of the ice will melt making you have a full glass of tea or coffee! Yum!
Then you just fill your glass with ice and place under the spout and press the start button! It really is that simple!
The coffee in the Brew Over Ice K-Cups is Green Mountain. I must say the flavor was outstanding. This was the words my Mother in law used anyway…for me it was a little strong but I am not a fan of coffee so that is a given for me. The coffee comes in flavors of Hazelnut, French Vanilla or Nantucket Blend!
As for the tea it really was outstanding! The tea is made by Celestial Seasonings and comes Southern Sweet, Half and Half, Sweet Raspberry, Sweet Lemon, Sweet Peach, and Unsweetened Black.
I did receive a product for the purpose of this review from BzzAgent, However my opinion was used in this review and was not influenced in any way! All thoughts are my own and may vary from others