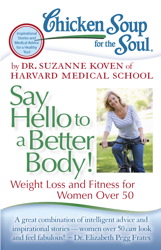 My Thoughts on Chicken Soup for the Soul
Say Hello to a Better Body
Chicken Soup for the Soul: Say Hello to a Better Body Weight Loss and Fitness for Women Over 50 by Dr. Suzanne Koven of Harvard Medical School contains everything you will need to transform your body after age 50. Dr. Suzanne Koven has combined her medical advice with inspirational stories that will help you change your life by giving you your confidence and energy back.
With these 5 chapters Dr. Suzanne Koven will help you Turn your life around, Take you life back, move forward, know the food you should be eating and the exercise that will help you in your journey.
Along with Dr. Suzanne Koven's medical knowledge there are tons of stories from other women just like you and how they have overcame their trials with weight loss and more!
On the Back
Just because we're over 50 doesn't mean we can't look and feel great. The most powerful tool in changing our mindsets is hearing one another's stories, as you will in this book, which is like a weight loss and fitness support group you can hold in your hand.
Read new Chicken Soup for the Soul stories from women just like you who have lost weight, become fit, and changed their lives. Dr. Koven's clear medical explanations and practical tips will help you stay fit, happy, and at a weight that is right for you. You'll read about:
How to get started
How small changes can lead to big results
How to manage menopause symptoms through exercise and nutrition
How to turn your maturity into an advantage
How to stop negative thinking
How to stop emotional eating
How to understand your body, with clear explanations and diagrams
How to eat right, without counting calories.