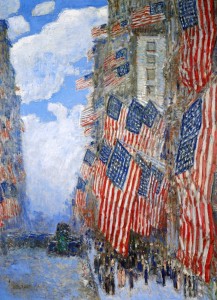 The Fourth of July is one of the top Holiday's at our house. It's like Christmas, but with legal explosives. It's a time when we get together with family and friends for fun, excitement and swimming immediately after eating. Unfortunately last year, our blissful outing of watching the local parade, the annual gluttonous BBQ and Samoan food picnic was ruined by fierce rain. We only got to see fireworks because the local fire department was determined to do it no matter what (you guys rock!).
Last year's washout got me thinking about having a backup plan this year. After all, we can't control the weather, so what can you do if a rainy day swallows up your Fourth of July plans?
6 Kids Activities for a Rainy Fourth of July
Indoor Drive-In
If you can get your hands on a projector, why not set up a special movie event in the family room? Tack a white bed sheet to the wall and create an indoor drive-in theatre. Pop some popcorn, grab a few special treats the kids love from the store and then watch a flick or two on the big screen. For some extra fun, we used some boxes we picked up from the local Walmart and cut them out to make small cars for the little ones. We let the kids color them, then put their bed pillows inside to sit on. It was a huge hit.
Treasure Hunt
This one can be done for any age—so it's fun for kids and adults alike. Create a wacky treasure hunt throughout the house and include some fun prizes. With older people, we like to create riddles and even tasks to solve, like where to find a certain key to open a door. The only rules—use your imagination and keep it fun!
Talent Show
This became a huge hit last year, when one of the kids wanted to perform a skit. It was something my son wrote himself and we enjoyed it so much, everyone else wanted to participate! So we created a talent show and made a huge deal of it. I created a special trophy for the winner (which everyone voted on) and provided runner-up prizes, usually sweet treats, for everyone else.
Indoor Balloon Volleyball
Want a fun activity for both kids and adults? Grab some string, tape, a couple chairs and a balloon and you have the makings of an indoor volleyball game! Grownups have to stay on their knees, which seems to get a lot of laughs from the kids.
Build a Fort
Don't let your own experience as a kid go to waste—yank the sheets from your beds, grab the pillows and build a fort. Use the furniture and help your kids construct a super fort… and don't forget the secret tunnels to escape.
Defy the Rain
In the end, our backup plan became a simple one: ignore the rain. The Fourth of July comes once a year and unless there's a flood, why not appreciate the warm water and all it brings. We bought rope to have tug-of-war in the mud, bought a cheap canopy to protect fireworks as they're being lit and watermelon that can be eaten anywhere. Bring on the rain!
What activities have been your family favorites on rainy Fourth of July days? Let us know below!
This is a Guest Post from Greg Buckskin.
-GUEST POST