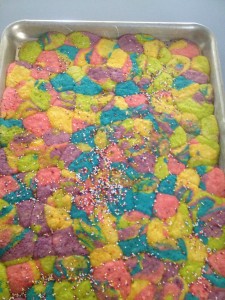 So I am kind of the "den mother" at the boys daycare and that means I am bringing in goodies a couple of times a month for all the kiddos.  This week they are having a Lorax party and will be watching the movie.  I did a spin off of some cookies I saw floating around pinterest that looked way to complicated to make on a busy day and turned them into some wonderfully colored bars instead.
Ingredients
1/2 cup softened butter
1 egg
2 cups flour
1 cup sugar
1/2 tsp salt
2 tsps baking powder
1/2 tsp vanilla
Directions
1. Combine all ingredients and mix well.
2. Divide your dough into 5 small bowls and add five different liquid food colors. The colors will dull some after they bake so make them bright!
3. Pinch your colors out and roll into small balls the size of grapes and place onto a greased cookie sheet. Make sure your colors have a good pattern to them as you don't want all your pink in one place. (Note my picture is not very patterned and I re-arranged them before placing into the oven).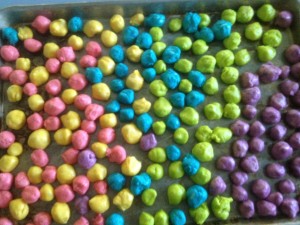 4. Bake your "balls" in a 9×13 inch pan at 350 degrees for 10-15 mins. (This part is a guess approximate actually as my oven is a bit shady at the actual baking part. I had to bake mine at 250 degrees for 20 minutes but my oven has problems!)  Half way through baking the boys added sprinkles.
5. Cool yours and cut into 12 servings.
**Notice I did mine on a cookie sheet actually which made for thinner cookies but I had doubled the recipe to feed all the daycare kids.**