My Thoughts on My Tot Clock
I live my life by routine and I find it important to have a routine for my daughter as she grows. She now knows what time is bed time and such just because we have installed that into her. That is exactly what Tot Clock does but the Tot Clock method is so much more fun then the method I used with my daughter!
My Tot Clock is a clock that will tell your child what time it is just by the color on the clock. Bed time is blue, wake time is yellow, discipline time is red and encouragement time is green. You as the parent can set each time to be whatever you like. You are able to set up your childs bed time and time for them to wake up. You are also able to control how long their encouragement and discipline times are.
Bed Time- the minute your child's bed time hits My Tot Clock will know and it will automatically change the color of the light to blue. But, color is not the only amazing thing My Tot Clock will do. As soon as bed time hits it will also start to do one of two things. Read your child a story or play music for them. You can even do a music with a mix of white noise if you like.
Nap Time- is just like bed time. You are able to set the time you would like and it will change the lighting to be blue and play a story or music while your little one falls asleep. 
Wake Time- As soon as Wake Time hits My Tot Clock will change the color of the light to yellow and will play music to help your child wake up. There are different Tot Clock Treasures that can be purchased that will help determine the stories and songs that will play! Just pull one treasure out and re-place with another one! Treasures include: Welcome to Children's Dreamland, Goldilocks & The Three Bears, The Hare and the Tortoise, The Little Red Hen, Sleeping Beauty, The Town and Country Mouse and The Princess and the Pea.
Discipline- Discipline time is something I hope I don't have to use often but I love the concept and that My Tot Clock has included this into their amazing clock. With just one click of the red button on the top it will start the time that you have designated. For my daughter it is currently 5 minutes. She knows that as soon as that light is red she is to sit still with her hands in her lap for the designated time. As soon as the clock changes back to yellow her time is up and she is able to play again.
Encouragement- this works just as the Discipline does. As soon as you click the button on the top of the clock the light will change green and stay that way for the designated time! So simple and easy to use and in a way your child will understand!
My Tot Clock has made a difference in my house already! I love that it will play stories and music for my child and that it will make disciplining easier for me. I also love that I can change out the songs and stories as well as changing the face plate on the clock to something that will suite each child. Sports, Butterflies, Dinosaurs, Ballerina, Princess, Barn Yard animals, Sea life and more! There is so much that this My Tot Clock has to offer! I love it!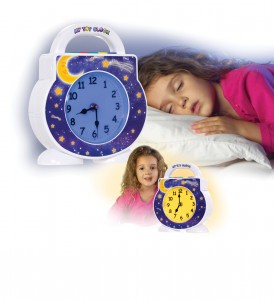 How would you like to win a My Tot Clock of your own? One lucky US reader will get the chance to do just that! Good Luck to all!
a Rafflecopter giveaway
I did receive a product for the purpose of this review, However my opinion was used in this review and was not influenced in any way! All thoughts are my own and may vary from others. I do not handle the mailing out of giveaway prizes and will not be held responsible for any mishaps that may occur to such items