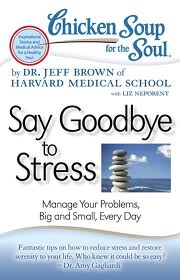 My Thoughts on Chicken Soup for the Soul
Say Goodbye to Stress
Chicken Soup for the Soul: Saying Goodbye to Stress. How I wish it was simple to say goodbye to the stress in my life! It seems that life just keeps getting more and more hectic everyday. If you are feeling the need to de-stress your life then why not check into Chicken Soup for the Soul:Say Goodbye to Stress.
This Chicken Soup book is unlike any other Chicken Soup book I have read thus far. Along with the inspirational stories by many different people this book is also written by Dr. Jeff Brown of Harvard Medical School and Liz Neporent. They will help you manage the stress in your life and give you ideas on how to feel better in your day to day life.
On the Back
The link between stress and just about every major disease or illness is well established. But stress can be managed, and this book tells you how. You can't necessarily change the world around you, but you can change the way you react to it.
Read how other people just like you have reduced the stress in their everyday lives and how you can reduce stress from major events.
These stories plus Dr. Brown's common sense approach will help you: Stop being your own worst enemy, Triumph over tragedy in your life, Reduce stress in the workplace even if you have a "killer job", Manage your thoughts and emotions and get out of those "thought traps", Reduce stress at home where it all starts, Manage your finances more sensibly to reduce stress, Get in touch with your stress and change your attitude, and De-stress your lifestyle with sleep, exercise, and the right food. 
I did receive a product for the purpose of this review, However my opinion was used in this review and was not influenced in any way! All thoughts are my own and may vary from others. I do not handle the mailing out of giveaway prizes and will not be held responsible for any mishaps that may occur to such items