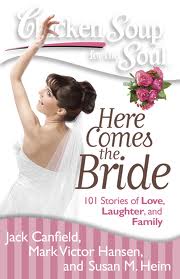 My Thoughts on Chicken Soup for the Soul
Here Comes the Bride
Summer is here and with that comes Wedding Season! If you are getting married or know someone who is then I recommend you look into Chicken Soup for the Soul: Here Comes the Bride! You will enjoy all 101 stores of love, laughter and family! No matter your (or any other brides) situation there are stories in this book to help uplift you and help you with all the feelings you might be going through as your wedding day approaches!
On the Back
You will be inspired and entertained by this collection of stories from brides and their friends and families, about all the aspects of being a bride, from proposal to honeymoon. These stories will make you laugh, entertain you, inspire you, and occasionally make you tear up. You'll love these stories about:
The Proposal, The Ring, The Dress, Planning the Wedding, Family Drama, The Wedding Party, Things that went wrong, unconventional weddings, mid-life love, second chances and the honeymoon!