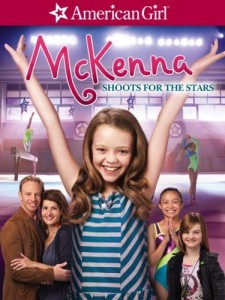 My Thoughts on American Girl
McKenna Shoots for the Stars
When I was growing up I loved to read anything American Girl. The books captivated my attention and the magazine helped me to love myself with their words of self esteem and confidence.
Now that my daughter is growing I want to encourage her with positivity and I know that American Girl can do that for her just as it did for me.
Recently I was able to review American Girl's new movie McKenna Shoots for the Stars.
This DVD could not have come at a better time as McKenna is about a girl who has a love for gymnastics which just so happens to be my daughters passion as well.
My daughter knows that to be able to have after school activities (gymnastics) then she must keep her grades up. This is something McKenna faces as she is struggling in school and then an injury changes everything for McKenna! Watch as she over comes her worst fears!
On the Back
Meet McKenna Brooks, a determined and confident young gymnast, in this all-new, modern-day adventure. McKenna is on track to make the regional competitive gymnastics team, but off track in school, where she's suddenly struggling to keep up. When her teacher suggests a tutor, she's embarrassed and desperate to keep it a secret from her friends. Then a bad fall at the gym sidetracks her from her favorite sport. Will she recover in time to make the team? Can she succeed in school, too? McKenna needs to focus on her strengths to overcome her challenges- and, with the help of family and friends, find a way to believe in herself again. Starring Nia Vardalos (my Big Fat Greek Wedding), Ian Ziering (TV's Beverly Hills 90210), and gymnastics champion Cathy Rigby, this heart-warming story will have the whole family cheering!
MeKenna will be available to purchase July 3rd!
I did receive a product for the purpose of this review, However my opinion was used in this review and was not influenced in any way! All thoughts are my own and may vary from others.