Cheap & Easy DIY Tomato Cage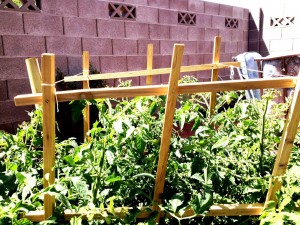 My wife was born with dark green thumbs. I mean, they themselves bloom every spring (yes her thumbs! Ok, not really.) Her parents have a stunning garden and raised their daughter on the basics of weeding, seeding, and feeding. That said, I shouldn't have been surprised when the tomatoes she planted in one of our garden boxes outgrew their new home in a matter of days. They grew so fast that within a week most of the branches were spread out on the newly laid sod around the garden box. I knew a fight between my lawn mower and her tomatos wouldn't exactly go over well, so we scrambled to put together an emergency tomato cage. The result was so cheap and easy, I wanted to share it, so here it is:
Materials needed:
1 – 2'x5' Ladder Trellis (mine was about $10 at Lowes)
Saw
Twine or String (300+ feet shouldn't be more than $4)

Step 1
Cut the ladder trellis in half creating two 2'x2.5' sections. You can eyeball this cut as you'll be burying the feet in the dirt. Depending on how the grid is laid out on the trellis, you may have to remove the center cross beam row in order to make your cut, as it might be dead center.
Step 2
Hammer the two pieces of trellis into the dirt facing each other. Be sure to set them far enough apart. We spaced ours out about 2 feet and had 4 plants inside in a square pattern, but they're definitely crammed. 2 plants might fit this set-up better.
Step 3
Tie the two pieces of trellis to each other from the top cross beams. As the plants grow (or if they're already gargantuan) they'll put pressure on the trellis, leaning them outward.
Step 4
Admire your creation. Ok, so it's not exactly a work of art. But it only took about 5 minutes and less than $15 for a durable, natural looking tomato cage. What have you used that was lying around as a quick DIY gardening or house project fix?
About the author: Daniel is a real life husband, dad and gardener. When not dreaming up his next DIY project, he's avidly getting the word out about HireAHelper. Because finding day labor should be easy to do online and should NOT involve a street corner and a bad feeling in the pit of your stomach.