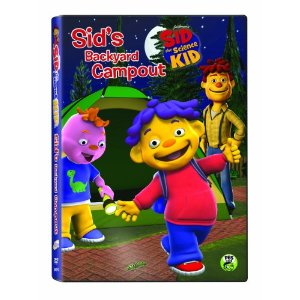 My Thoughts on Sid the Science Kid
Sid's Backyard Campout
Sid the Science Kid is one of my all time favorite cartoons for my daughter to watch. I love that it is based around education and every day science questions that a kid might wonder about. Plus Sid is a lovable and a character that the kids relate too and enjoy watching!
This DVD contains 45 minutes of Sid the Science Kid Fun and includes some great 12 Teacher Susie Karaoke Songs, Including:
Beautiful Trees

Colors Of The Rainbow

Rock Song

Decay

Teeny Tine Turtle From Turtle Bay
On the Back
Pack some food and bring your backpack, because Sid, Gerald and Dad are gearing up for a big adventure! They're setting up tents for a campout in the backyard! Dad is eager to share his love for nature and demonstrates how to have a great time outside with the simplest of necessities. They look for animals, cook their own dinner, marvel at the stars in the sky, roast marshmallows, and sing songs around the campfire. Join the adventure and sing along!