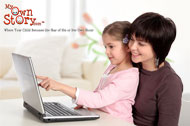 Parents dread having that convo with their children. But it turns out there are quite a few tough topics beyond the birds and the bees that come up before puberty begins looming. Grab a helping hand in discussing life's most confusing issues with today's Save from MyOwnStory.com.
Here's the deal:
1) $5 for two personalized storybooks, or
2) $14 for six personalized storybooks
Collaborating with teachers, doctors and educational specialists, internationally published author Colette Freedman composes stories to help children handle the issues that are most difficult for parents to explain — from the first day of school to divorce. Sample titles include I Have a Cavity, We're Moving, and Saying Goodbye to my Pacifier. Simply pick your topic, customize it for your child, then print for immediate use.
If your new to Eversave sign up HERE or use this quick link to snag this save now through 6/29/12.