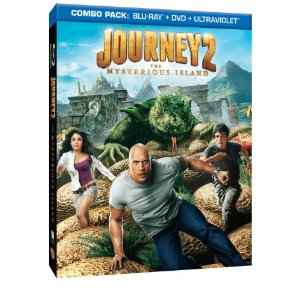 My Thoughts on Journey2
The Mysterious Island
Let me start out by saying I LOVED THIS MOVIE! I have never before seen the first Journey movie and had not in all honest heard of the second movie up until the time it was sent to me for review.
Journey2 is a movie the whole family will enjoy! Action and adventure without all the bad language and blood that I dislike from so many other movies. Journey2 is about a boy who is on the lookout for his Grandpa and the Mysterious Island he has been searching for, for years. In the meantime he is also trying to deal with a new step father and of course they don't see eye to eye.
In this movie the boy will quickly learn that his step father is not as bad as he originally thought and without his help he would have never been able to find the Mysterious Island or his Grandfather.
Will this family find everything they have been looking for? Will they be able to get off the island on time? You will have to watch and see!
On the Back
In this follow-up to the hit Journey to the Center of the Earth, 17-year-old Sean receives a coded distress signal from a mysterious island- a place of bizarre and dangerous life forms, deadly volcanoes and astonishing secrets! Unable to stop him, Sean's stepfather joins the quest. Together with a helicopter pilot and his beautiful, strong-willed daughter, they set out to find the island, rescue its lone human inhabitant and escape before seismic shockwaves swallow the island and bury its treasure forever. 
I did receive a product for the purpose of this review, However my opinion was used in this review and was not influenced in any way! All thoughts are my own and may vary from others.