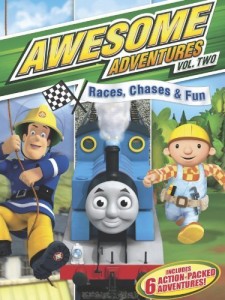 My Thoughts on Awesome Adventures
Vol. Two
Races, Chases & Fun
I love the Awesome Adventures DVD's! Three of the kiddo's favorite cartoons into on! Fireman Sam, Thomas and Bob the Builder! On this DVD you will find 6 fun filled episodes from the characters you love so much!
Thomas & Friends: Play Time

Thomas & Friends: Hiro Helps Out

Fireman Sam: Floating Cart

Fireman Sam: When Fools Rush In

Bob the Builder: Roley's Rovers

Bob the Builder: Lofty and the Monster
On the Back
Racing engines, runaway go-carts and monster chases lead to thrills, spills and rescues! Thomas and Hiro discover there's no need for speed when trying to be a Really Useful Engine; Fireman Sam is rescue-ready when Norman and James forget to put safety first; Bob the Builder's Machine Team keep their eyes open to big adventure and big fun, putting the TEAM in teamwork and getting the job done. Get set and go with your favorite, fast friends in these six exciting adventures!