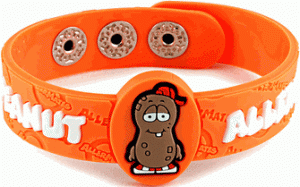 My Thoughts on AllerMates
When you have a child with allergies life gets filled with worry over if they are ok. What if the child next to them at lunch has peanuts in their lunch pale? What if the cake they are eating at that birthday party contains eggs? There are already so many things to worry about as a parent and with AllerMates you might feel a little more confident that your child and their allergies will be okay even when you are not around to protect them.
AllerMates is a fun little bracelet that your child can wear to let every one around them know just what it is your child might be allergic to.
AllerMates can be purchased in:
P. Nutty (Peanut Allergy)
Nutso (Nut Allergy)
Professor Wheatley (Gluten / Wheat Allergy)
Pint (Milk Allergy)
Eggie (Egg Allergy)
Crabby (Shellfish Allergy)
Super-Cillin (Penicillin Allergy)
Bizzy (Insect Sting Allergy)
Dr. Strangeglove (Latex Allergy)
Drift (Pollen Allergy)
Detective Fin (Fish Allergy)
Soy Cool (Soy Allergy)
Teeni Tahini (Sesame Allergy)
Nine (Cat Allergy)
AllerMates are adjustable in size allowing your child to grow with their bracelet and they come in many fun colors to add some great style to your childs wardrobe!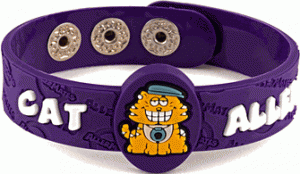 From the Web Site:
The AllerMates website (www.allermates.com) offers both parents and children easy to read and understand tips, facts and general information about allergies as well as lots of fun games and activities based on the line of AllerMates characters. The website also has a fully functional social community allowing its members free and easy interaction and sharing of the latest blogs, news, videos and information within the allergy community. You can meet the AllerMates Gang there and get the back story on each character as well as fun tips (did you know a peanut isn't actually a nut … it's a legume).
AllerMates products can be purchased at www.allermates.com, at Amazon.com and at independent retailers throughout the U.S. as well as stores in Canada, United Kingdom, Portugal and South America. Look for AllerMates products at national retailers this summer.
I did receive a product for the purpose of this review, However my opinion was used in this review and was not influenced in any way! All thoughts are my own and may vary from others.