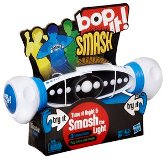 If you follow my blog you know just how much I love games! Recently I was able to review Bop It Smash from Hasbro! What a fun game that I am able to play with a friend or by myself.
Bop It Smash is different than the other Bop It games I own. With the Smash I am challenged to smash the light when it is in one of the middle three lights. With the patterns of the game switching up often it is more challenging then I had first anticipated. Not only is this a game for the adults to enjoy but the kids love it as well.
With each game you are given three lives…smash the Bop It on one of the middle three lights and your good to go! But, if you miss and Smash on any of the other lights…then there goes your life!
From Press Release:
BOP IT! SMASH
Can you move faster than the speed of light? You'll have to put your reflexes to the test as you attempt to control, trap and play with light in the all-new Bop It! Smash. Similar to other Bop It! favorites, Bop It! Smash is a fast action, reaction skill game, but with a new challenge. Players must move fast to be able to trap a rapidly-moving light in the center of the game unit by quickly smashing the ends of the game together. The closer the light is to the center, the more points you score!