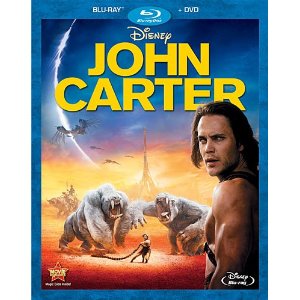 My Thoughts on Disney's John Carter
I must admit this movie was much different then I ever thought it would be. When I first seen the previews I thought that it was a Disney movie that did not look very interesting to me. I was wrong. I actually enjoyed this movie. John Carter has some deep parts that took a bit for me to understand but I really liked the general concept and thought it was a good movie.
John Carter has had a lot of pain in his life and is all of a sudden thrown into a new planet and whole new culture he never knew existed. Desperate to try to get back to Earth and the life he knows things take a different turn…okay lots of different turns.
Watch as John Carter makes his way through this series of events in this action adventure and love story about two people who fall in love from different planets. Will John Carter go back to Earth? Will he stay and take on a whole new life? You will have to watch and see to find out!
On the Back
From Academy Award- winning filmmaker Andrew Stanton comes John Carter- a sweeping action-adventure set on the mysterious and exotic planet of Barsoom (Mars). Based on Edgar Rice Burroughs classic novel – John Carter is a war-weary, former military captain who's inexplicably transported to Mars and reluctantly becomes embroiled in an epic conflict. It's a world on the brink of collapse, and Carter rediscovers his humanity when he realizes the survival of Barsoom and it's people rests in his hands. Stunning special effects, great characters and villains – and complete with extraordinary bonus features – John Carter is a heroic and inspirational adventure that will thrill you beyond imagination. 

I did receive a product for the purpose of this review, However my opinion was used in this review and was not influenced in any way! All thoughts are my own and may vary from others.