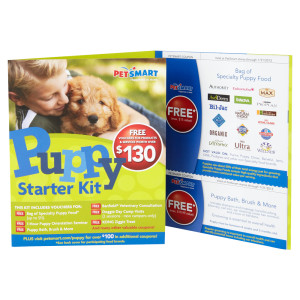 The Puppy Starter Kit – Over $130 in savings for only $19.99 at PetSmart.com!
Have a Puppy or are you thinking about getting one? Check out this great Starter Kit that will help you save on everything you need for your new pet!
The Puppy Starter Kit includes coupons for in-store products and services worth over $130 including:
Free Small Bag of Specialty Puppy food (up to $15 value)
Free Puppy Bath, Brush, & More at the Grooming Salon (up to $10.99 value)
Free 1-Hour Puppy Orientation Training Seminar ($20 value)
2 Free Doggie Day Camp Sessions (up to $25 value per session)
Free Vet Consultation at Banfield (min. $34.95 value)
Save $10 on Banfield Microchip
Save $10 on Bayer K9 Advantix II 6 pack
Save $10 on Bayer Advantage II 6 pack
Save $5 on GNC Pets Puppy Multivitamins
And more!