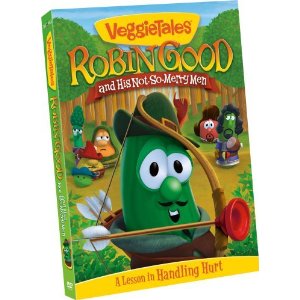 My Thoughts on VeggieTales
Robin Good and His Not-So-Merry Men
I have loved Veggie Tales and their message's of God since the first time I seen my first episode when I was a teenager babysitting my cousins. I had never before heard of these talking veggies and I was instantly captivated by their fun characters and inspirational messages.
When my daughter was born I new that Veggie Tales would be a big part of our lives as I knew I could pop in a Veggie Tales DVD and not worry about what she was watching or learning!
Recently I was sent Veggie Tales Robin Good and His Not-So-Merry Men DVD for the purpose of this review. I absolutely loved this story but I also must say that my favorite part of this DVD was the Bonus Short! It made me laugh and it made me cry! Lenny is a boy who lost his birthday. He is having a crummy day as he seems to be the only one who remembered it was his birthday! As I watched this cartoon my heart strings were pulled as they watched this poor little boy have the worst birthday ever! But the way that the Veggie Tales writers put it together made it the best ending ever and it has now became my favorite Veggie Tales episode ever!
On the Back
A long time ago, in the faraway town of Bethlingham, roved a band of merry men led by the fearless Robin Good. Their mission: to help people by fundraising from the rich and giving to the poor! But when a greedy Prince starts stealing the townspeople's hams, donations are down and Robin's friends take off and decide to give robbing from the rich a try. Feeling rejected, Robin thinks things can't get any worse, until he finds out that the ham-hoarding Prince has also captured his friends. Can Robin overcome his own hurt, rescue his friends and restore the townspeople's hope? Find out in this fun Veggie story where kids learn that there's no hurt too big for God! 
I did receive a product for the purpose of this review, However my opinion was used in this review and was not influenced in any way! All thoughts are my own and may vary from others.