How to Create a Comfortable Study Environment in Your Home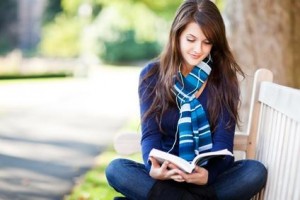 All students require a comfortable place to study. Having a great place to study will definitely help in learning and increase grades. Creating a study environment takes planning and knowing your best learning style. University students should study approximately two hours for every college credit hour in which they are enrolled. High school students often have study halls during the school day. Therefore high school students may not need to study as many hours. However, an area for study is still a good plan. Middle school and elementary students also can benefit from a special study zone.
First, find a place in the home that can be used primarily for a study environment. It might be an extra room in the house that can be completely designed into a home study room. If there are no extra rooms, then find a corner of a room, such as a bedroom, dining or living room. Even a quiet space in a basement or garage can be a place to study. Perhaps there is an extra walk-in closet that has room for studying. The place that is chosen must have good lighting and ventilation. There will need to be electrical outlets to plug in lamps for lighting. Without great lighting, the eyes cannot see properly to read books, papers and a computer screen. Buy a couple of great desk lamps with bulb strength that is meant for close-up work. In addition, electrical outlets and surge protectors are required for a computer. A desktop computer or a laptop computer may need different types of electrical wiring plug-ins.
Ventilation of air can help maintain a temperature that assists with learning. Some students like to be warm and others like to be cool. Have a way to control the temperature in the study zone. Great ways to manage temperature are circulating fans or space heaters. Computers can heat up quickly with no ventilation. Make sure there is a way to keep the laptop or desktop computer at an optimal temperature. Choose a desk or table of the correct height. Then choose a desk chair that works nicely with the desk or table. A seat and back desk chair that raises, lowers, and rotates is a great choice. Most students need to alternate between using a computer and using a desk's surface. It might be a good idea to have a wrap around desk or two desks. One desk can be used for a computer and the other for writing. Have study supplies ready at the desk area. Supplies include, paper, pencils, pens, rulers, pencil sharpener and any other extras that are needed. Have the pencils sharpened so that a student can easily begin a study session.
Have a time each day that is scheduled to study. Make sure there is nothing distracting nearby. Turn off the television and loud music from radios or CD players. Some students enjoy quiet music while in a study session. Use discipline during the study time. Avoid using a cell phone or playing computer games. Focus on the homework during the study session. Have the textbooks needed, along with a dictionary and other study materials. For longer study sessions, have drinks and snacks nearby to help maintain energy. Use a calendar to write down assignments and schedules and have it ready at the desk. Students might also enjoy painting or decorating the study area to create an incentive to study effectively. Extra décor for a study environment might include, posters on the wall or a bean bag chair to sit in while reading long books.
Emily enjoys finding new ways to study efficiently and she believes everything from the school furniture in your home office to the music you listen to can greatly influence the outcome of your performance.