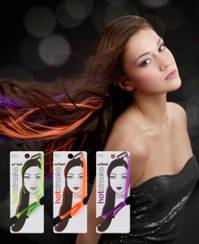 My Thoughts on Hot Streaks by Scunci
Streaking your hair with all types of colors is something I have always loved to do. Unfortunately up until I was introduced to Hot Streaks by Scunci it was not possible since it is so hard to find time to dye my hair all the time! Now with Hot Streaks by Scunci I don't have to worry about making a trip to the salon! I just have to clip the fun colors in my hair and go about my day!
With Scunci Hot Streaks you can clip one color, two or even four! Cut it to the length of your hair or wear it long. There are so many great ideas you can do with Scunci's Hot Streaks! My daughter even gets a kick out of wearing colors that match her day to day outfits! All the fun and fashion with out the hassle! I love me some Scunci!
Scunci's Hot Streaks have a silver clip that slides into your hair easily and stays in place firmly once closed. Hot Streaks can be purchased in Pink, Purple, Blue, Orange and Green and are 18" of vibrant color!
Hot Streaks by Scunci are sold for around $4.99 at retailers such as K-Mart, Giant Eagle and Big Y!
From Press Release:
For more great styling ideas, hair accessory trends and scünci giveaways, "like" our Facebook page at www.facebook.com/scuncihair, or follow scünci on Twitter atwww.twitter.com/scunciHair.