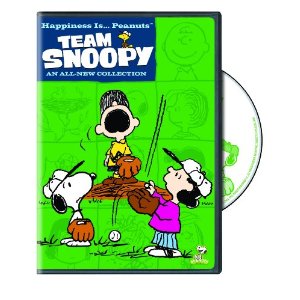 My Thoughts on Happiness Is…Peanuts
Team Snoopy
When I was growing up I was not able to watch The Peanuts very often. I remember they came on t.v. around holidays but that is the only time I was able to watch these lovable characters. I am glad that now my daughter is able to watch them whenever she likes. It is nice to have all our favorite episodes on DVD to watch as a family.
Recently I was able to review Happiness Is…Peanuts: Team Snoopy. Team Snoopy came out just in time for Summer! I know that I will throw a few balls with the kiddos before school starts up again and it was fun to watch the Peanuts gang playing all their favorite sports games as well.
On the Back
Batter up with Peanuts and celebrate their greatest sports moments in this all-new collection. For Charlie Brown, a new baseball season equals new hopes of winning. Unfortunately, one player just isn't measuring up, which makes the team decide that Lucy Must Be Traded, Charlie Brown. Then suit up for a triple-header of laughs with The Charlie Brown and Snoopy Show. In The Pelicans, Charlie Brown gets stuck with mascot duties while Peppermint Patty is on the road to victory with her baseball team. Great Pumpkin finds the Peanuts gang visiting the bowling alley in hopes of teaching Charlie Brown a new sport with hilarious results, and it's game on as the neighborhood cat meets his match when Snoopy's older brother Spike trots into town. It's time to catch the winning spirit and share these tales with your teammates, since happiness is what Team Snoopy is all about!