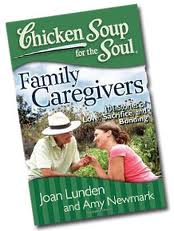 My Thoughts on Family Caregivers
101 Stories of Love, Sacrifice, and Bonding
Chicken Soup for the Soul: 101 Stories of Love, Sacrifice, and Bonding is full of inspiration that you will not be able to get enough of! I love reading inspirational stories that let me know I am not alone in life! Everything I am going through as a parent are trials that have happened to others. It is also awesome to read about how they got through the situations in their life and I am then able to have different ways to get through the issues I have going on! I love it! Thank you Chicken Soup for the Soul for yet another amazing book!
On the Back
These revealing stories from people of all ages who take care of family members, at home or in outside facilities, are filled with emotional support and practical advice. You'll be inspired and feel appreciated as you read all 101 of these personal glimpses into the lives of other family caregivers, including: How Joan Lunden manages the care of her mother at the same time she is raising young children, as part of the Sandwich Generation.
How Gail Sheehy navigated the care-giving maze during her husband's battle with cancer, and the 9 emotional stages of the family caregiver.
How Jill Eikenberry and Michael Tucker moved Jill's elderly mother in next door- they eat family meals together, prepared by their daughter.
How Dr. Alexis Abrams became her grandmother's full-time caregiver at age 22, a real-life experience that led to a Ph.D. In Gerontology.
How Leeza Gibbons' mother planned for her Alzheimer's disease, and Leeza's tips on how to accept and manage the diagnosis and care.