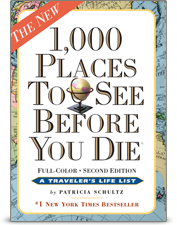 My Thoughts on 1,000 Places to See Before You Die
I am one of those people that would love to see every inch of this beautiful earth. When I am hiking with my family I like to go that extra mile just to see what is around the bend or over the mountain. I love to travel and if I could afford to do it more often I would travel to every country in this world just to see what it is like.
This nicely put together book with talk you through 1,000 of the worlds most amazing places. I know that I will not ever be able to see a fraction of what they have listed but a girl can dream right?
I really enjoyed reading and learning about so many places I had never before heard of along with the places that really are within an hour of my home. Such a joy to learn facts and some wonderful history that has made this world what it is today!
This book is really up my ally and I have also loved reading it with my daughter who is just getting into learning about what the world has to offer. The Italian Riviera, The Galilee, Ubud, Sapa, Kauai and more! Such amazing places!
On the Back
The world's wonders, continent by continent: A trek through Morocco's Atlas Mountains. Sri Lanka's Hill Country. A sunrise balloon safari over Masai Mara. Canyon de Chelly, The sacred festivals of Bhutan. The Amalfi Coast, Sailing the Mekong River. The Old Course at St. Andrews. Nicaragua's unsung Corn Islands. In all, 1,000 places guaranteed to give travelers the shivers, including sacred ruins, coral reefs, hilltop villages, deserted beaches, wine trails, hidden islands, opera houses, wildlife preserves, castles, museums, and more. Each entry tells why it's essential to visit and includes hotels, restaurants, and festivals to check out. Then come and completely updated nuts and bolts: websites, phone numbers, prices, best times to visit.
The world is calling. Time to answer. 
I was provided a review sample. Opinions are my own.