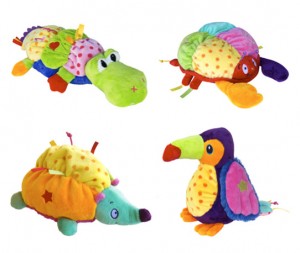 My Thoughts on Aurora Rattle, Crinkle Friends "Brights"
I love purchasing baby toys for all of the little ones in my family. Especially ones that are full of vibrant colors and make sounds that will stimulate brain growth and activity. Recently I was able to review a great Crinkling, Squeaking, Rattling Alligator from Aurora Toys. The Alligator contains a variety of colors and is nice and soft for the babies to play with.
Crinkle Friends "Brights" can be purchased in 7 different animal shapes including Frog, Pig, Cow, Hedgehog, Toucan, Alligator or Crab.
Crinkle Friends are recommended for ages 6 months and up. These Aurora Crinkle Friends retail for a suggested price of $17 and can be purchased at http://shop.auroragift.com
How would you like to win a Crinkle Friend of your own? I am happy to say that here at Heavenly Savings I will be giving away one Crinkle Friend of your choice (out of those pictured above) to ONE US or Canadian Resident! Just enter on the Rafflecopter below! Good Luck!