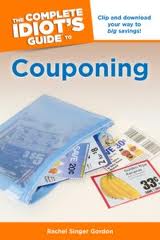 My Thoughts on The Complete Idiot's Guide to Couponing
We are living in a time where everyone is pinching pennies and trying their best to save money. With all these couponing shows popping up everywhere it is becoming more and more known just how much money you can save when you coupon. Now I will be the first to admit I am far from 'Extreme' in the couponing department but I did save enough money this year to take my family on a 10 day trip to Disney Land. This is a huge amount of money and it really is not as hard as some of you may think.
When it comes to coupons it can be very hard to figure out how to get started, where to find coupons, and how use them. With this, The Complete Idiot's Guide to Couponing it will get much easier. This guide will walk you through the step by step process of coupons. Teaching you how to save money while shopping in store and online! There is even sections on saving money at restaurants as well as using your mobile phone to save you more cash!
Whatever your question might be this book as an answer. I loved reading about the coupon myths and the way to organize your coupons. There were many tips and ideas I had never thought of or known about before and I am excited to introduce these new ideas into my shopping habits!
On the Back
Looking to save money? Say hello to couponing! By combining the wealth of coupons with a few simple changes in the way you shop, you'll quickly see your bills drop while your pantry and other stockpiles grow!
Loaded with ideas for getting the most bang for your buck form manufacturer, store, online, and other coupons, this money-saving guide makes couponing easy and enjoyable- and it works! In it, you get:
An eye-opening look at how you currently shop, plus ways to revamp your shopping habits to reap maximum savings.

Simple suggestions for finding and cashing in on coupons for the items you need and use every day.

Advice on saving big with multiple-savings offers, money-back coupons, and rewards programs that pay you to shop!

The latest information on deal-of-the-day sites, rebates, and other online and mobile couponing options.