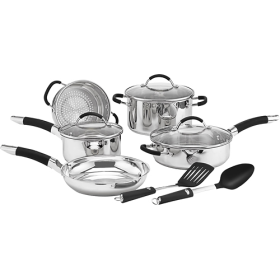 Cuisinart – Pro Classic Cookware Set – Stainless-Steel are only $99.99 today at Best Buy. This set of pans is originally $199.99 so I would say this is a steal. Only available today and while supplies last. I have been on the hunt for some new pans but because my stove is an induction top I can only have a few select kinds. Namely they have to be 100% stainless steel (not just coated) or cast iron. A little tough to find for a decent price. Perhaps today is my lucky day though 🙂
What's Included
10″ skillet, 2-quart sauce pan with cover, 2-quart sauté pan with cover, 5-quart stockpot with cover, steamer insert, slotted turner, spoon
Owner's manual
Product Features
Cookware set
Includes a 10″ skillet, 2-quart sauce pan with cover, 2-quart sauté pan with cover, 5-quart stockpot with cover, steamer insert, slotted turner and spoon for versatile cooking options.
Kitchen tools
With soft-touch handles feature nylon heads that are heat-resistant up to 350° for reliable use.
Stainless-steel construction
Provides durability.
Dishwasher-safe design
Enables simple cleaning.