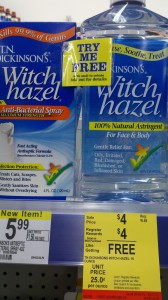 Who's ready for a big money maker deal at Walgreens this week? Here are three easy steps to cash on this deal.
* Purchase ANY size T. N Dickinson's Witch Hazel that has the peelie for the Mail in Rebate on the product (as pictured above)
* Complete the form on the Mail in Rebate
* Must purchase and have post marked between the dates of March 2012 until December 31st 2013
Buy T. N. Dickinson's With Hazel 16 oz. @ $4.00
= $4.00 and get back $4.00 in Register Rewards
= Fill out for the $4.00 Mail in Rebate
= $4.00 $MONEY MAKER!!
*Thanks, Family Frugal Fun