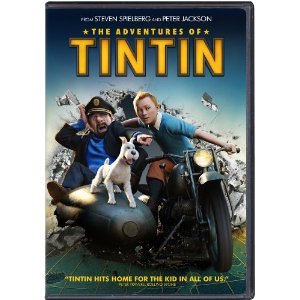 My Thoughts on The Adventures of Tintin
As soon as I seen the first preview of The Adventures of Tintin I knew that it would be a movie for me. Action and adventure plus a great story line. It sounded fun and like a movie the whole family would love.
Recently I was sent a copy of The Adventures of Tintin for the purpose of this review. I think my husband was even more excited to watch this movie then I was so we popped it in right away and sat down for a night of movies. In the beginning I was a little nervous of this movie. There was shootings and killings in this movie that I was not expecting my six year old to see. Although it was done as nicely as possible and thankfully I don't think she really knew what was going on anyway…

Okay now that I got the only negative out of the way I can say that for my husband and I it was great. It was fun to watch the adventures around every corner unfold before our eyes. My husband says it is by far one of the best animated films we have watching in a very long time and I agree! In the movie there is a boy and his dog discover a mystery about a sunken ship and hidden treasure. What more could you ask for in a movie! A+ from me! He befriends a drunken captain and a villain who wants the information the boy and captain posses. Will Tintin and Snowy (his dog) be able to find the hidden treasure before they lose their life? You will have to watch and see!
On the Back
From Academy Award-winning filmmakers Steven Spielberg and Peter Jackson comes the epic adventure of Tintin. Racing to uncover the secrets of a sunkin ship that may hold a vast fortune- but also an ancient curse-Tintin and his loyal dog Snowy embark on an action-packed journey that critics are calling "fun for the whole family."
I did receive a product for the purpose of this review, However my opinion was used in this review and was not influenced in any way! All thoughts are my own and may vary from others.