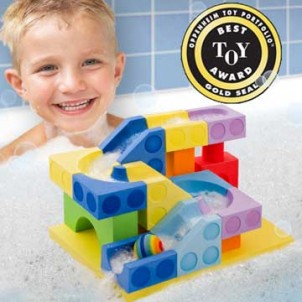 My Thoughts on Water Blocks
Bath toys are the most popular toys in my household. Even if they are not 'taking a bath' the kids like to fill up the bathroom sink full of water and play with the toys.
Recently I was able to review the ingenuous Bath Blocks by Just Think Toys. I say ingenuous because they are the most fun bath toys I have ever seen. With Water Blocks your kids will be able to build buildings, obstacle courses and more with floating blocks! Since receiving the Water Blocks I have enjoyed watching the kids build in the tub as well as on the side of the bathtub walls. Instead of yelling at them to take a bath I have had the challenge of trying to get them out of the tub!
One thing I noticed as soon as I opened the Water Blocks package was the quality of the blocks. They are solid and are not easily bent or broken. It is also very easy to build to your hearts content as the Water Blocks are sold with a solid flat block that is used to build what ever your heart desires.
One thing I did find was that some of the bigger blocks had a hard time sticking to the wall. But, after visiting the web site I did see that adding bubbles to the water will make them extra sticky! It worked like a charm.
The kids really do love these Water Blocks…ok so I will be honest and say that I have had fun with them as well.
Water Blocks sell from anywhere between $9.99 and $19.99 they are recommended for ages 4-99 and can be purchased at BathBlocks.com!