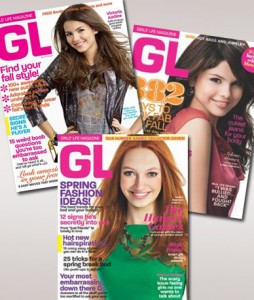 Today on Mamasource by Mamapedia you can snag a 2 year subscription to GL: Girl's Life for only $12 down from $48.
The road from childhood to adolescence can be a rocky one, but Girls' Life smooths the path with engaging, real-world advice, guidance, and stories for older girls, pre-teens, and teenagers. From profiles of real teens to useful tips on fashion and fitness, every page fosters a positive outlook, healthy relationships, and high self-esteem. Give your daughter, granddaughter, niece, or loved one a vibrant resource for living, learning, feeling, and looking her best with a subscription to Girls' Life.
Highlights
Recipient of numerous Parents' Choice Gold Awards
Advice, entertainment, fashion, health/fitness, quizzes, and much more
Profiles of real girls overcoming real challenges
Details
Includes 12 issues (two-year subscription)
Ideal for girls ages 10-15
Magazine will be mailed to the address provided at checkout on Mamasource
Subscription will be sent to you within 6-8 weeks
Valid for new, renewal, or gift subscriptions; U.S. only
No refunds from publisher after redemption
Offer valid April 20-April 25, 2012 only
Address changes may be submitted to Mamasource by Midnight, April 26, no further changes may be made after that.