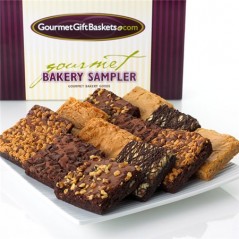 My Thoughts Gourmet Gift Baskets
Brownie Sampler
I am a sucker for Brownies but then again who isn't! That is why when I had the opportunity to review Gourmet Gift Baskets Brownie Sampler I could not even think about turning them down!
The Gourmet Gift Baskets Brownie Sampler contains 12 Brownies in 6 delicious flavors!
· Belgian Chocolate Chunk
· White Chocolate Macadamia Blonde
· Butterscotch Blonde
· Cheesecake
· Peanut Butter
· Fudge Walnut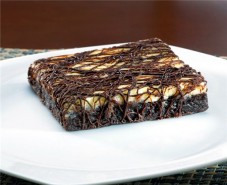 As soon as the box arrived my husband and I decided to put our daughter to bed early (so we did not have to share) and sample these yummy looking brownies! They were amazing! Ok I will admit we did not eat all of them in one sitting! In fact we saved them and split one a day until they were gone!
The Gourmet Gift Basket Brownies were as amazing as you would expect! Each brownie was soft and delectable! Plus they were much bigger then I first anticipated!
This Mother's Day think of the Gourmet Gift Baskets Brownie Sampler! It will make the perfect gift for anyone!