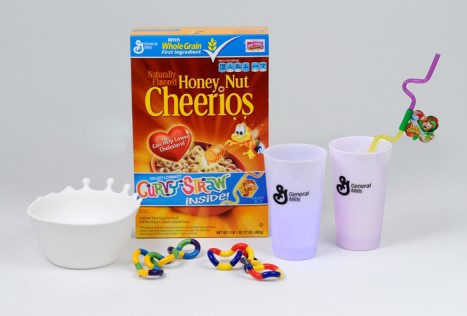 My Thoughts Big G Cereal
I have been a fan of Big G cereal since I was a child! Cinnamon Toast Crunch, Lucky Charms, Reese's Puffs, Honey Nut Cherrios, Trix and Cocoa Puffs are amongst my favorite but not just because of their amazing taste but also because of the whole grain and other great ingredients! Plus once you add a ½ cup of milk you will be off to an amazing start!
From Press Release:
Did you know that simply drinking the leftover milk from cereal bowls may help kids work towards fulfilling their body´s daily dairy, calcium, and Vitamin D needs? And what better way to slurp down to the bottom of the bowl than with the new Curvy Straws, available in-pack of specially marked boxes of Big G cereal! With these collectable, connectable Curvy Straws, children of all ages can enjoy mixing and matching to build bigger, colorful straws all while helping them work towards stronger bones and muscles through increased calcium intake!
To help your family stay healthy I am happy to be able to host a giveaway Thanks to MyBlogSpark and Big G Cereal! I was also provided with a Big G Package that included the curvy straws, bowl, cups, Lucky Charms and tangle toys! I was thrilled with the prize package and I love the idea of the fun curvy straws. What a great way to make being healthy fun! The straws are of course a huge hit at my home as well as the fun milk bowl and glow cups! Thanks Big G for being so amazing!

Prize Package will include:
1 box of a participating Big G cereal

1 Curvy Straw

1 `spilt´ milk bowl

2 glow cups

2 tangle toys
"Disclosure:  The prize pack, information, and giveaway have been provided by General Mills through MyBlogSpark."