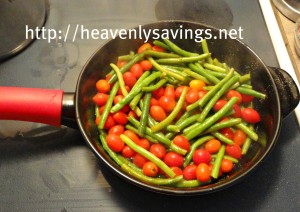 My Thoughts on Xtrema
Recently you might have noticed a new skillet that is being pictured in some of my recipe posts! That is because thanks to ceramcor.com I have been able to review the Xrema 10" 100% Ceramic Open Skillet and Silicone pot holder! 
When the skillet arrived it was packaged very nicely to help my skillet get to me safely. The skillet is nice and durable of course from being ceramic!
I had never before cooked (on the stove top) in ceramic and really did not know what to expect. I was just excited to try it out and see for myself how wonderful it was.
The first recipe I cooked in my new Xtrema Skillet was the Green Beans and Cherry Tomatoes! You might remember the recipe that was posted a few weeks ago! Since then I have also used my Xtrema Skillet for Fish, Bacon, Fried Rice and some tasty veggies! Each time I have been amazed with how well the skillet holds heat, food does not stick to the bottom of the pan and it wipes clean very easily! Plus the silicone pot holder is cushy and helps me to not burn my hand as I am cooking or transferring the pan to other places!
Another feature that I have found with the Xtrema Ceramic Skillet is how easy it is to pop in the oven. I am not able to do that with any other skillet! I can now melt the cheese over a casserole that was cooked on the stove with no problems at all!
The ceramic is also very durable during washing. At first I was very worried about scratching the skillet as we all know can easily happen with some other types of skillets. It did not take long for me to realize that scratching was not an issue and the skillet came clean much faster then I anticipated!
I really love the Xtrema Skillet! I can cook on the stove top or in the oven, I can transfer to the table quickly and easily without burning my hand and I can even put the skillet right into the fridge or freezer! Xtreme is also 100% green which makes it just that much better!
Happy Cooking!
Ingredients:
1 1/2 lbs Green Beans 1/4 c butter 1/4 c white wine 1 tbs sugar 3/4 tbs garlic 2 c cherry tomatos  
1. Cut the tips off of the the green beans.
2. Place Wine in sauce pan and bring to boil. Once boiling add Green Beans and butter. Cover and simmer 8 minutes or until green beans are at a tender crisp (not soggy mush)
3. Add sugar, garlic and tomatos and simmer 2-3 minutes longer or until you hear the tomatos popping from the heat.
4. Serve and enjoy!