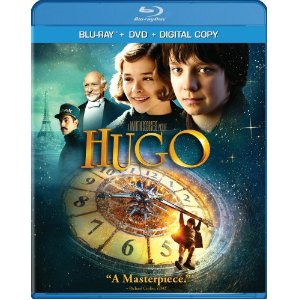 My Thoughts on Hugo
When the previews for Hugo starting appearing on TV I instantly knew it was going to be a must see! Then when I started seeing Huge get nominated for awards all over Hollywood it just confirmed for me how much I needed to see this movie.
Recently I was able to review Hugo and could not wait to watch this movie with my family. It is not very often I get to review movies like this and I knew it would be a family hit! I was right! Hugo is the story of an orphan boy who lives in a train station. He works hard to keep the clock in the station running right on time as well as other fun contraptions he has in his hidden apartment.
Hugo is a courageous little boy who has so much knowledge but is in desperate need of a family. Watch as Hugo befriends a girl and unlocks a whole new adventure with her that will not only lead him down the path of no longer being an orphan but will also bring some much needed comfort from the death of his beloved father.
On the Back
Welcome to a magical world of spectacular adventure! When wily and resourceful Hugo discover a secret left by his father, he unlocks a mystery and embarks on a quest that will transform those around him and lead to a safe and loving place he can call home. Academy Award winning filmmaker Martin Scorsese invites you to experience a thrilling journey that critics are calling "the stuff that dreams are made of" (Peter Travers, Rolling Stone).
I did receive a product for the purpose of this review, However my opinion was used in this review and was not influenced in any way! All thoughts are my own and may vary from others.