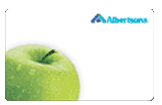 American sock drawers likely hold an estimated $30B in unused gift cards. PlasticJungle.com is the web's largest secured gift card exchange, offering the best way to sell, buy or donate gift cards in a trusted environment. Consumers can save money at their favorite stores with discounted gift cards up to 35% off, and Plastic Jungle buys unspent gift cards for up to 92% of the unused balance.
Plastic Jungle is offering your shoppers additional savings on Albertsons gift cards! Albertsons gift cards will be discounted 3% April 17th & April 18th. There is no promo code necessary to redeem this offer.
Find groceries for less at Albertsons in Idaho, Montana, Oregon, Southern California, Southern Nevada, Utah, Washington, and Wyoming with discount Albertsons gift cards.
* Start date: Tuesday, April 17th
* End date: Wednesday, April 18th
* Promo code: None Required
* Promo name: Additional Discounted Gift Card
Albertsons gift cards are discounted 3% through 4/18 at Plastic Jungle!