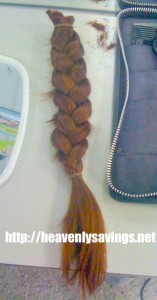 Recently I had the opportunity to donate 14″ of hair to the Lock's of Love program! Donating your hair is a great way to help others who need it! I fully believe that we all should work to together and help others as often as we can and Pantene and Seventeen Magazine have paired up to do just that!
From Press Release:
Pantene and Seventeen Magazine have teamed up to host the first-ever National Donate Your Hair Day on April 27, benefiting the Pantene Beautiful Lengths program. This will be the first annual day of giving where people nationwide are encouraged to cut and donate their hair to Pantene Beautiful Lengths.
Created in 2006, Pantene Beautiful Lengths inspires people to grow, cut and donate their healthy hair to create free, real-hair wigs for women who have lost their hair due to cancer treatments.  To date, Pantene Beautiful Lengths has received more than 311,000 hair donations from generous men, women, and children and more than 18,000 real-hair wigs have been provided to female cancer patients.
In celebration of the inaugural National Donate Your Hair Day, Pantene and Seventeen Magazine will host an event on April 27 at the Rita Hazan Salon in New York City. Pantene Celebrity Hair Stylist Danilo will also be at the salon to support the hair donors and lend his voice to the program.
If you  live in the NYC area and would like to donate 8-inches of healthy hair to Pantene Beautiful Lengths, we would love to have you attend our event at the Rita Hazan Salon.  They can make an appointment anytime from 12pm – 6pm on April 27 for a
free cut and style
with a top stylist – all they need to do is send an email with their preferred appointment time to
BeautifulLengthsWigs@devries-pr.com
.  The Pantene team will email them back with availability and confirm their appointment!
This is also a great opportunity for you and your kids if you are interested in donating your hair!
The requirements to donate hair to Pantene Beautiful Lengths are:
Each hair donation must be at least 8 inches long.
Hair may be colored with vegetable dyes, rinses and semi-permanent dyes. It cannot be bleached, permanently colored or chemically treated.
Gray hair is difficult to use in the wig-making process, so hair may not be more than 5% gray at the time of donation.