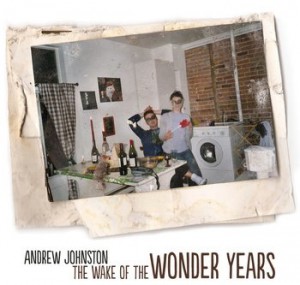 My Thoughts on Andrew Johnston
The Wake of the Wonder Years CD
Such an old school up beat sound. That was the first thought that entered my mind when I first listened to Andrew Johnston's The Wake of the Wonder Years CD! To be honest this music is right up my alley and as most of you know there are two classifications I place on my music reviews…music to dance around and clean the house with or music to sit in a hot bubble bath and relax too. This falls right into the dance around the house music! I love the beat and the lyrics are catchy.
From Press Release:
Opening with a stunning piano, that invokes emotion in every note, the next chapter in the ANDREW JOHNSTON story is about to begin. Sit back and get ready to take it all in. Just premiering his newest single, "Don't Need to Know," on Baeble today, the buzz worthy indie pop artist is ready to take the world by storm.
With brightly strummed guitars blended with brilliant harmonies, all provided by Johnston no less, the piece exemplifies perfection with each tone. "Don't Need to Know," is ready to make its mark on indie music history, reminiscent of Sloan's Between the Bridges, you will quickly find yourself in awe of what ANDREW JOHNSTON has to offer.
Tracks
Long Lost Sound
Don't Need To Know
The Dark Place
Something You Already Know
Get Ready For a Hurricane
National Geographic
Teenage Paws
The Other Side of the Dream
Beat Down Your Stereo
It Used To Be Enough
Not Enough Lifetimes
Only Time Will Tell
I did receive a product for the purpose of this review, However my opinion was used in this review and was not influenced in any way! All thoughts are my own and may vary from others.