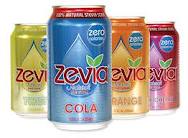 If you have not signed up yet there is still time to possibly score a FREE Zevia Soda! I am not positive yet about what the website is sending out they just state :
"Welcome to the guilt free soda world! Have you tried Zevia yet?
As you can tell, we love to surprise our fans so sign up here to receive a little something cool. Remember, limit one per household."
It's worth a shot at some FREE Soda! Go HERE to sign up!