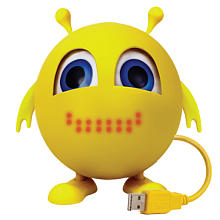 My Thoughts On Chatman
My daughter is at that age where she is becoming more and more interested in computers. Recently she has been wanting to spend time on my computer playing games and looking up fun things she is learning about in school. I am a parent who will not let me daughter on the computer without me watching her every move but I know that I will not be able to be with her every second of her computer time especially as she gets older.
Chatman has now become my new best friend when it comes to my daughters computer time. He is a cute little yellow man that plugs into your USB port on your computer. While he is plugged in he will help to protect your kids from places on the internet that they should not go. As well as help with their homework, guide them to places, chat with them and will even connect them to facebook, Skype, and MSN!
Chatman can also be customized to your child by choosing male or female. The kids can enjoy changing the mood of Chatman to fit with how they might be feeling. There are loads of games to play with Chatman and he will even read Instant Messages from your friends.
Another feature about Chatman that I just love is you can ask him a question and he will search the internet for the answer. No more getting nervous that a site she is searching will take her to a place I don't want her 6 year old eyes to see. You will also be able to set the the content that you want your child to have access to and Chatman will alert your child when they try to go somewhere they shouldn't!
Chatman works well with Windows and Mac OSX and is currently on sale at ToysRUs.com for just $49.99! This is a promotional price and will only last through Mid-April!You can also sign up for Chatman news and special offers HERE!