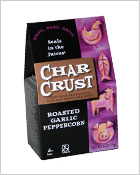 My Thoughts on Char Crust
We love to grill and I am always on the lookout for great cooking spices and I have found an amazing Cooking Dry Rub with Char Crust!
Recently I was able to review Char Crust's Roasted Garlic Peppercorn. As soon as it arrived I knew what we would make with the Roasted Garlic Peppercon Dry Rub! The classic Hamburger and French Fries!! They were amazing! I could really taste the Garlic Peppercorn on my burger and fries! We just followed the directions on the back of the box for the perfect tasting, juices locked in, flavorful burgers! Char Crust will be a wonderful addition to our BBQ's in the future!
Char Crust can be found in a variety of amazing flavors including Original Hickory Grilled, Roasted Garlic Peppercorn, Ginger Teriyaki, Hickory & Molasses, Smoky Spicy Southwest, Amazin' Cajun, All American Barbecue, Sun-Dried Tomato & Garlic, and Roto Roast. Each Char Crust retails for around $5.49 and comes in 4 oz packages!
Char Crust can be used on Chicken, Fish, Beef, Pork or Veggies and can be broiled, baked or grilled so there is a huge array of ideas you can do with this Dry Rub! Add it to any dish to provide that extra kick your family will love!
Are your taste buds watering yet? Char Crust can be found at your local Whole Foods Store as well as many other locations! Just check out their web site for more information as well as locations to purchase the great Char Crust flavors!
Here are some ideas on how to use Char Crust found on the web site:
Classic Use – Grilling or Broiling
1. Dredge (completely cover all sides) any meat of fish with Char Crust® dry rub seasoning. Be generous and pat or rub to coat evenly all over.
2. For best results with low-fat meats or fish, we suggest that you drizzle or spritz a little oil or non-stick oil spray on the surface of the already-seasoned protein. This provides a protective buffer on the surface of the spices and creates a sizzling Char Crust®. If using a well-marbled cut of beef, or cooking on a George Foreman® style grill, you can skip this step.
3. Using a preheated broiler (top rack) or very hot grill, sear both sides of the protein. Then cook to desired preference. For juiciest results, do not pierce meat or press down hard on it.
Classic Use – Roasting
1. Preheat oven to highest temperature (500 degrees or higher is best).
2. Follow Steps 1 and 2 from "Grilling and Broiling" above.
3. Place roast in roasting pan that allows some space all around the roast. Place into oven and allow to cook for 15 minutes. Then turn temperature down to your desired roasting temperature (350 degrees is a common choice). Continue cooking until desired temperature is reached.
Note: Char Crust® dry rub seasoning does not change your normal cooking times, so if you are using a favorite recipe and adding Char Crust® dry rub to it, simply follow your recipe.
Sprinkle Use – Broil, bake, grill or sauté
Works especially well for vegetables!
1. Drizzle clean vegetables with oil, then toss well to coat.
2. Sprinkle to taste with Char Crust®  dry rub seasoning, then toss again
3. Broil, bake, grill, or sauté as usual.
4. Serve to rave reviews!
Note: You can also sprinkle Char Crust® on fresh steamed veggies. After cooking, toss veggies with a little butter or oil, then sprinkle with Char Crust® dry rub to taste, and toss again.
I did receive a product for the purpose of this review, However my opinion was used in this review and was not influenced in any way! All thoughts are my own and may vary from others.