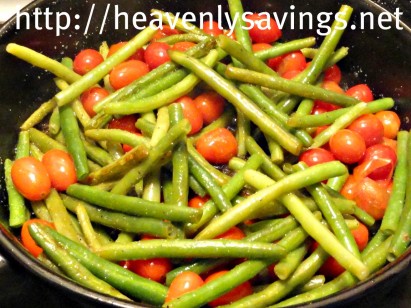 YUM! This is one of the bet veggie side dishes I have made in awhile!
Ingredients:
1 1/2 lbs Green Beans 1/4 c butter 1/4 c white wine 1 tbs sugar 3/4 tbs garlic 2 c cherry tomatos  
1. Cut the tips off of the the green beans.
2. Place Wine in sauce pan and bring to boil. Once boiling add Green Beans and butter. Cover and simmer 8 minutes or until green beans are at a tender crisp (not soggy mush)
3. Add sugar, garlic and tomatos and simmer 2-3 minutes longer or until you hear the tomatos popping from the heat.
4. Serve and enjoy!