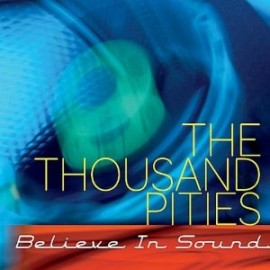 The Thousand Pities
Believe In Sound
You all know that when I write about music that there are two different classes that I put a CD into! Music to Jam and Clean the house with or music to relax and take a bubble bath with! I found this to be up beat and dance around while cleaning my house music.
Right off the bat I fell in love with the beat of The Thousand Pities. I was unsure at first if I would like them or not. I have never heard of them before and I am always leery when it comes to new music as I don't like foul language and hard rock. This contained none of those.The video below is one of their slower songs. Check it out and let me know what you think?
Tracks
What If Everyone Is Wrong?
Count My Summer Down
Last Glittering Thrill
Point Pleasant
Gone to Stay
Warm
From The Air
Dream About It
Making Other Plans
Fourth of July
Looking for Wonder
Believe in Sound
Super High Moon
I did receive a product for the purpose of this review, However my opinion was used in this review and was not influenced in any way! All thoughts are my own and may vary from others.