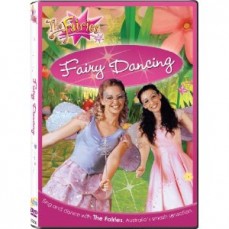 The Fairies
Fairy Dancing
Little girls dream of being fairy's and dancing through the beautiful flowers. It is just something you do as a child and with Fairy Dancing they will be able to add to their imagination and also learn some fun Fairy Songs!
Recently I was able to review The Fairies, Fairy Dancing. It was fun to see my daughters face light up with the DVD and she was singing and dancing with the songs in no time! Oh to be a child again!
On the Back
Join Harmony and Rhapsody and their friends and spend the whole day dancing! From jazz to tap, tango to rock n' roll, bootskooting to ballet, the fairies discover so many different kinds of fan-fairy-tastic songs and dances!
Featuring all of the Fairyland friends, Fairy Dancing is full of beauty, friendship and a sprinkling of glitter and magic!
I did receive a product for the purpose of this review, However my opinion was used in this review and was not influenced in any way! All thoughts are my own and may vary from others.