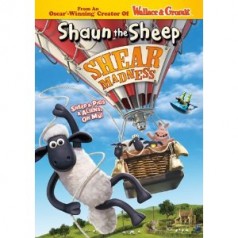 Shaun the Sheep
Shear Madness
Shaun the Sheep is a cartoon that is slowly growing on me. I was introduced to this cartoon on a road trip around Thanksgiving and to be honest since there were no words I really did not have a clue what was going on. What I did know however was just how much my family was laughing in the backseat.
Shaun the Sheep is a funny character from the Oscar Winning creator of Wallace & Gromit. You will get a kick out of Shaun and his barn yard friends as they have great adventure in a hot air balloon!
On the Back
It's madness in the meadow with Shaun the Sheep and his flock of mischievous merrymakers! Shaun expertly stops the pigs from running amuck and turning the farm into a porky paradise. He amuses his friends when he falls head over hoof for a beautiful stranger, and demonstrates what happens when curiosity gets the sheep after a hot-air balloon lands and causes mayhem in the meadow. From the farm to outer space and everywhere in between, Shaun and his barnyard buddies know how to have a woolly good time!
Also checkout my other Kids Cartoon Reviews!