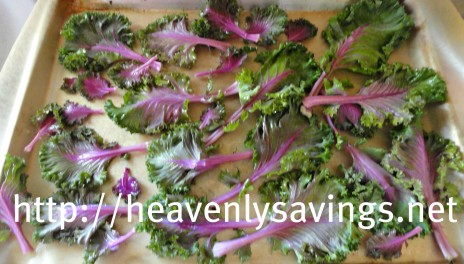 Recently Thanks to my Co-Op Basket I was introduced to Salad Savoy! I had never heard of this brightly colored leafy green before and was excited for the chance to give it a try! After scouring the internet I came across a recipe on InspiredRD so I thought I would give it a try!
Ingredients:
1 Bunch Salad Savoy 1 Tbs Olive Oil 1/4 tsp sea salt
I was surprised to find that the Salad Savoy Chips were one of the easiest things ever to make!
1. I cut the Salad Savoy off the thick stem and washed it really well.
2. I placed the washed Salad Savoy in a large bowl and added the Olive Oil. I then shook the bowl around until the Salad Savoy was evenly coated in Olive Oil.
3. I then placed a piece of Parchment Paper over a cookie sheet and then evenly spread the Salad Savoy leafs on the baking sheet making sure none of he pieces were overlapping.
4. I then placed baking sheet in the oven and baked at 350 degrees for about 15-20 minutes or until leafs are lightly browned and crispy.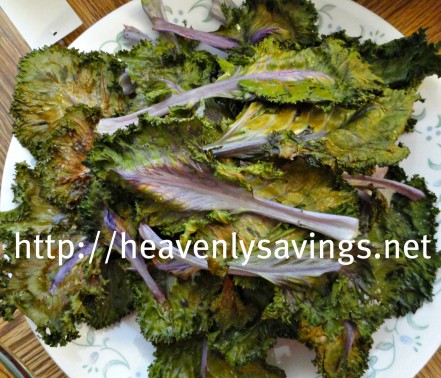 Are you on the lookout for other great Veggie Recipes? Visit my Vegetable Recipe's HERE also don't forget to 'Pin' what you like! There are "Pin It" buttons at the bottom of each post!
Also don't forget to follow me on Pinterest to stay up to date will all the great recipes!
Don't forget to click the 'Magic' button below for Nutritional Information for this recipe!